Myrna L. Burmester, 90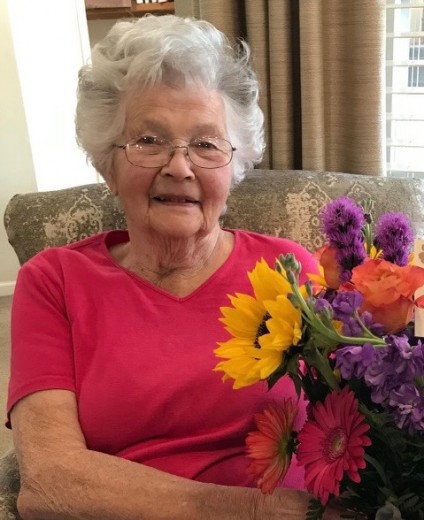 Myrna L. Burmester, 90, of Marshalltown, Iowa and formerly of Hampton, Iowa, entered into eternal life on the evening of June 9, 2022 at the Iowa River Hospice Home in Marshalltown, surrounded by her loving family.
Services for Myrna will be held on Tuesday, June 14 at 10:30 a.m. at the Mitchell Family Funeral Home in Marshalltown, with Reverend Alex Post officiating. She will be laid to rest at the Hampton Cemetery in Hampton, Iowa. A visitation for family and friends will take place one hour prior to services, beginning at 9:30 a.m. at the Mitchell Family Funeral Home. Memorials may be directed to the family for later designation. For additional information or to send a condolence to the family, please visit www.mitchellfh.com or call 641-844-1234. 
Born Myrna Lucille Handorf on October 9, 1931 in Marshalltown, Iowa, she was one of four children blessed to Raymond and Clara (Bruchlacher) Handorf. Myrna attended Marshalltown High School, graduating in the class of 1949. Following high school, Myrna attended school at Marshalltown Business College, now MCC. 
On June 19, 1955, she was united in marriage to the love of her life, Dallas Burmester, at Trinity Lutheran Church of Dillon. The two made their home in Hampton, where Myrna was a loving and dedicated farm wife and mother. She absolutely loved living in the country. She was a faithful member of the Trinity Lutheran Church in Hampton. 
In 2005, she moved to Marshalltown, where she worked at Hy-Vee. Myrna was a member of Redeemer Lutheran Church, where she enjoyed taking fresh cut flowers. She was also a member of Ladies Aide and she enjoyed volunteering at the House of Compassion. In 2019, she moved to Bickford Cottage, where she thrived amongst the company of fellow residents and their caring staff. 
Myrna enjoyed gardening, cats (especially her beloved Lucy), feeding the birds and trips to Grimes Farm. She liked to stay busy and was always helping people. She loved her family more than anything, traveling with them and spending time with her children and grandchildren. She especially enjoyed having everyone together at Christmastime, her favorite time of year. 
Those left to cherish her memory are her children: Sally Lou Burmester of Venice, CA, Jody (Brent) Weil of Evansville, IN and Ron (Tammy) Burmester of West Des Moines, IA; grandchildren: Adam Weil of Evansville, IN, Carter Burmester of Coralville, IA and Carson Burmester of Cedar Rapids, IA; her sister, Carol (Bruce) Thatcher of New Braunfels, TX and numerous nieces and nephews.
In eternal life, Myrna is reunited with her beloved husband, Dallas; her son, Byron Burmester; her parents, Raymond and Clara Handorf; her sister, Pauline Hartman and her brother, Wilmer Handorf.
Category:
Mid-America Publishing
This newspaper is part of the Mid-America Publishing Family. Please visit www.midampublishing.com for more information.