Lois Paula Stratmann, 89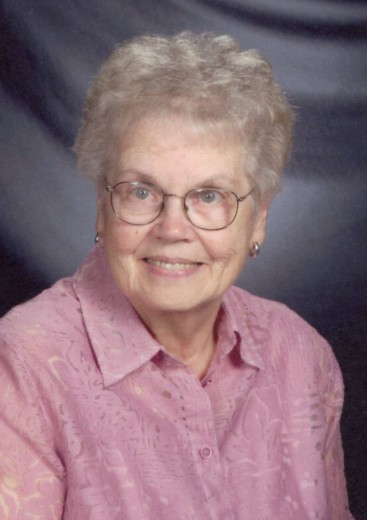 Lois Paula Stratmann, 89, of Hampton, passed away Saturday, November 13, 2021, surrounded by family at Franklin Country View Nursing Facility in Hampton. She was born January 28, 1932, in Detroit, Michigan, to Paul and Edna (Wendler) Kroeger.
Lois graduated from Lutheran High School in Detroit, Michigan, class of 1949. She then received her teaching degree at Concordia Teacher's College in River Forest, Illinois. Lois was united in marriage to Arnold Edward Stratmann on December 12, 1953, in Detroit, Michigan. To this union, four children were born.
Lois was a kind, sweet and loving woman who lived her life as a true testament of her faith in Jesus Christ. As the Librarian at Coulter Public Library, she led the campaign for a new library building along with providing many fun story hour activities for the children (including dressing up as Amelia Bedelia). She created bulletin boards for many decades at church and later at Apple Valley Assisted Living. She was a Sunday School and confirmation teacher for children in both Iowa and Arizona, and taught children piano lessons and tutored them in reading. Quilting was a craft she loved and shared by both creating and teaching others. Family Ancestry was a passion that caused her to create albums for many sides of her family to enjoy and they especially loved the little personal interest stories that were included.
Lois served on the Franklin General Hospital Auxiliary, baked many delicious pies for the Franklin County Fair, and was a lifelong member of Trinity Lutheran Church in Hampton, as well as the LWML including serving as Editor of The IDE for many years. She volunteered at St. Paul Lutheran School as a beginning computer teacher and cookie decorating teacher.
Lois is survived by her daughter Linda (Mark) Modderman of Sioux Falls, South Dakota, son Keith (Kelley) Stratmann of Tonopah, Arizona, son Alan (Jennifer) Stratmann of Hillsboro, Ohio, daughter-in-law Jan Stratmann of Garner; grandchildren Paul (Christa) Modderman, Colin (Jessica) Modderman, Seth Modderman, Josh (Crystal) Stratmann, Trevor (Jessie) Stratmann; step-grandchildren Eric (Lisa) Fetzer, Renee Kennedy, RaeAnn (Scott) Tombaugh, Heidi (Josh) Gladden, Loren (Melissa) Bryant; 23 great grandchildren and step-great grandchildren; 3 great-great grandchildren; along with many nieces and nephews.
She was preceded in death by her parents Paul and Edna Kroeger, husband Arnold Stratmann, son Gary Stratmann, and in-laws Carl and Emma Stratmann.
In lieu of flowers, memorials may be directed to the Trinity Lutheran Vicar Fund, St. Paul's Lutheran School in Latimer, or the American Cancer Society.
Visitation was held from 4:00 p.m. until 7:00 p.m., Wednesday, November 17, 2021, at Trinity Lutheran Church in Hampton. Funeral services were held at 10:30 a.m., Thursday, November 18, 2021, at Trinity Lutheran Church, with burial in the Trinity Lutheran Cemetery in rural Hampton.
Category:
Mid-America Publishing
This newspaper is part of the Mid-America Publishing Family. Please visit www.midampublishing.com for more information.