Jerry Martin Schutt, 68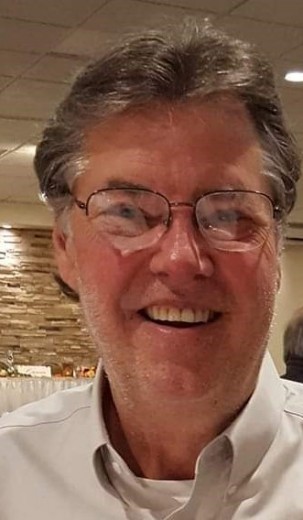 Jerry Martin Schutt, 68, passed away from Alzheimer's disease at Kavanagh House – Every Step on June 1, 2021.  Arrangements are being made by McLarens Resthaven Chapel & Mortuary in West Des Moines.  Visitation will be from 9:00 to 10:30 AM on June 11th at St. Francis of Assisi Catholic Church in West Des Moines. Funeral services and a luncheon will follow.
Jerry was born on February 7, 1953 to Lillian (Mellott) and Martin Schutt, and raised in Hampton, IA.  He  attended Hampton schools and graduated from Hampton High School in 1972.  Jerry's classmates and childhood friends were cherished lifelong friends.
Jerry married Susan Fitz in 1977 and had three daughters, Kathryn, Amy and Melissa. They resided in Iowa Falls.  Jerry enjoyed being involved in the girls' activities and was a proud father.  He worked in the family Bible business and loved telling people that he sold bibles.  After 10 years of marriage, that union dissolved and Jerry moved to West Des Moines. 
Jerry was a sports fanatic.  He volunteered to coach youth baseball at Walnut Creek.  It was there that he met his future bride, Janet Kleen, as he coached her son's little league team.  Janet and Jerry were married on December 28, 1994. He expanded his family that day and welcomed Jessica and Jon.  Jerry continued to coach and be active in all his children's lives. 
Jerry had a true love of faith, family and friends.  He was gregarious with an unforgettable smile, sense of humor and gift of gab. He had a kind heart and always found the good in people.  Jerry was blessed with many friends over his lifetime that meant the world to him. Jerry had a passion for meeting people. He often ended conversations, with a pat on the back, a handshake and saying, "take care my friend".  People were drawn to Jerry as he was easy to love.
He worked in sales at Valley Papers and Stroh Corporation.  He later took a position at Medinotes as a Business Development Manager.  He truly enjoyed working and especially loved the people he worked with.  They were family to him.
Jerry enjoyed reading, telling stories, making people laugh, sports and cheering on the Hawkeyes.  
He had a deep love for his 12 grandchildren, Hunter Ites, Jack Ites, Abby Ites, Alex Manning, Caden Manning, Jacob Sly, Blake Lawson, Gabe Lawson, Luke Lawson, Ali Lawson, Mason Kleen and Caleb Kleen.
Jerry joined his father, mother, brother (Paul) and sister (Edna Rigby) in heaven. 
Jerry leaves behind Janet, daughters, Katie Manning, Amy (Justin) Ites, Melissa (Mike) Bach, Jessica (Bryan) Lawson and Jon (Kristen) Kleen. He also has two surviving sisters, Mary Gregory and Martha Schutt. 
In lieu of flowers, the family requests you consider a donation to Kavanagh House  – Every Step Hospice, Wesley Hospice, the Alzheimer's Association or funds for a bench at the Iowa State Fairgrounds in Jerry's name.
Jerry will be missed, but not forgotten.
Category:
Mid-America Publishing
This newspaper is part of the Mid-America Publishing Family. Please visit www.midampublishing.com for more information.