Gladys Amendt, 98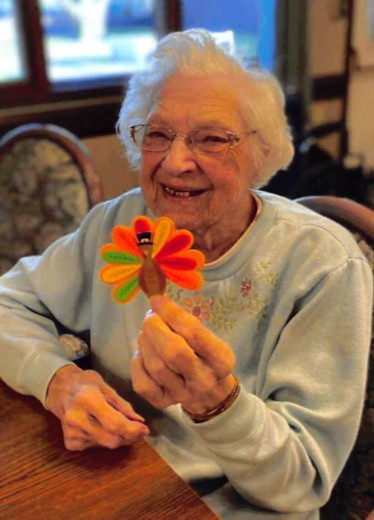 Gladys Amendt was born on September 21, 1923, in rural Sheffield, daughter of Julius & Emily (Wiele) Liekweg.  She attended rural school and later graduated from Sheffield High School, Sheffield, Iowa in 1941, and from Hamilton's Business College, Mason City, Iowa.
Gladys was united in marriage to Darrell Amendt on May 18, 1947.  They lived in Mason City, where she was employed by the First National Bank.  In 1957, her husband was transferred by John Deere Company to East Moline, Illinois.  They lived in Moline, where she worked at the Moline National Bank.  They lived there until her husband retired from John Deere Company in 1982.  Gladys and Darrell then moved to Hampton, to be closer to family.  She was a member of St. Paul Lutheran Church in Hampton.
Gladys was preceded in death by her husband Darrell, parents Julius and Emily, brother George Liekweg and sister-in-law Leona Liekweg, sister Hazel Schmitt and brother-in-law Harold Schmitt.
She is survived by her nephew Duane Liekweg, his wife Janiece, and his daughters Robin Liekweg Blythe and Dawn Liekweg.
Gladys passed away Saturday, October 2, 2021, at the Sheffield Care Center.  She was 98 years old.
Funeral services were held at 10:30 a.m., Tuesday, October 12, 2021, at Sietsema Vogel Funeral Home in Hampton, followed by burial in the Hampton Cemetery.
The Sietsema Vogel Funeral Home of Hampton cared for Gladys and her family.
www.sietsemavogelfuneralhomes.com
641-456-3232
Category:
Mid-America Publishing
This newspaper is part of the Mid-America Publishing Family. Please visit www.midampublishing.com for more information.