Dorothy Ann (Tweed) Alden, 96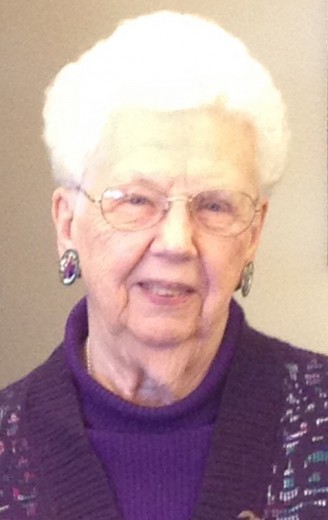 Dorothy Ann (Tweed) Alden, 96, of Sheffield entered into eternal rest with her Lord and Savior Sunday, April 24, 2022, at the Sheffield Care Center in Sheffield, Iowa.  Funeral services will be Saturday, April 30, at 1:00 p.m. at the West Fork United Methodist Church, 2200 Tulip Avenue, Sheffield, with Pastor Sandi Gobeli presiding.  Visitation will be one hour prior to the service, also at the church, with lunch after the service and a private family burial service following the lunch.
Dorothy was born at home November 30, 1925, at Fertile, Iowa, the 4th of 11 children born to Joe and Opal (Hovland) Tweed.  The family later moved, first to Forest City, then in 1939 to a farm north of Lake Mills.  During her growing-up years she enjoyed taking turns with her siblings riding their family's one bicycle, sometimes with a sibling riding on the handlebars. She also helped milk cows before and after school, and picked beans for the local canning factory, dragging a burlap bag behind her. She attended country school through the 8th grade and graduated from Lake Mills High School in 1942.  
From there she attended Hamilton Business School in Mason City, where she had an apartment with her sister Yvonne and two friends.  They lived on the top floor of a 3-story home and called themselves the Gable Girls.  Since none of them had a car they walked everywhere – to class, to church, to Birdsall's ice cream parlor, and later to work at People's Gas & Electric.  It was during those years that she enjoyed roller skating and that was where her friend Maxine introduced her to a young farmer from Dougherty, Hartley Alden.  Hartley and Dorothy were married January 26, 1946, at Trinity Lutheran Church in Mason City.  Her friend Maxine married Hartley's brother Dale and became her sister-in-law.
Hartley and Dorothy first lived in his brother Dale's home near the West Fork River while Dale was in the service in Japan.  From there they moved to Hartley's farm near Dougherty, first to a 10' by 20' building which later became the brooder house.  It was their "honeymoon cabin" while the country schoolhouse they had moved to the farm was being enlarged and remodeled.  This farm is where they lived for most of their 62 years of marriage and raised their four children.
Dorothy was a stay-at-home mom and homemaker.  Her personality and generous heart kept her active in their church and community, as a Sunday School and Vacation Bible School teacher, a 4-H leader, and as a member of the Care Review Committee for the Sheffield Care Center.  She made many of her daughters' clothes as well as their doll clothes.  She and Hartley enjoyed traveling, fishing trips, and spending time with family and friends.
Dorothy loved life on the farm.  She managed the farm bookkeeping, dropped everything to make a parts run as needed, helped Hartley with many farm improvement projects, and insisted on a home improvement project now and then.  She brought thousands of meals to the field through the years.  These meals were complete, delicious hot supper meals as if you were seated at her table, but were delivered to whatever field the person was in at the time.
Hartley died in May 2008, and Dorothy remained on the farm until December 2012 when she decided to spend the winter at the Deerfield Assisted Living facility in Sheffield.  She discovered she enjoyed living there so much that she stayed until December 2017 when she needed to move to the Sheffield Care Center.  At both facilities she was well loved and received wonderful care.
Dorothy was preceded in death by her husband Hartley, her parents, her grandson Roger Samuel Alden; brothers DeWard (young child), Dean (Iris), Don (infant), Ray, and Mike; sisters Leona (Dale)Thompson, Yvonne (Fred) Wiele, Bonnie (Don) DeWall, and Gayle (Raymond) Bolton; brothers-in-law Kenneth and Dale (Maxine) Alden; sisters-in-law Irma (Worth) Riggins and Selma Graham; and several nieces and nephews.
She is survived by her brother Roger (Lib) Tweed; sisters-in-law Barb Tweed and Jeannine Tweed; her children Barbara (Dean) Hutchison, Holly (Tom) FitzSimmons, Janet (Ray) Wierson, and David (Kathy) Alden; grandchildren Todd (Jennifer) Hutchison and their children Thomas and Owen, Amy Hutchison (Marty Wolske), Paul Hutchison and his son Alden, Julian (Justine) Eighmy and their children Reese and Gavin, Colin Eighmy, Scott (Jennifer) Wierson, Jennifer (Lee) Smith and their children Cali, Jaxon, and Camden, Jeff (Kate) Wierson and their children Makylah, Kaelsten, and Taelyn, as well as many nieces, nephews, and a host of friends.
Memorial contributions may be given in memory of Dorothy Alden to Care Initiatives Hospice, Sheffield Sharing Shoppe, or to the Sheffield Care Center. 
Counsell Woodley Funeral Home of Hampton is caring for Dorothy and her family.
Category:
Mid-America Publishing
This newspaper is part of the Mid-America Publishing Family. Please visit www.midampublishing.com for more information.