Donald Ivan Ahlas, 87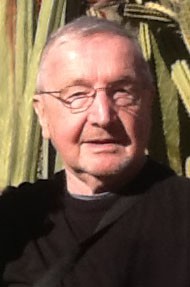 Donald Ivan Ahlas, 87, of Chapin, Iowa, passed away Tuesday, September 14, 2021, at his home in Chapin.
He was born in Indiana, Pennsylvania, on June 27, 1934; son of Charles Gilbert Ahlas and Addie Sara (Berringer) Ahlas. Donald moved with his parents when he was 3 years old to Niagara Falls, New York. He attended Pacific Avenue elementary school, LaSalle High School, and the University of Buffalo.
He was employed by the Wurlitzer Company, Hooker Chemical Company, and was an instructor at Niagara County Community College.
Donald was a member of the Army National Guard from 1952 to 1964 and served on active duty at Fort Bliss, Texas from 1959 to 1960.
Volunteerism was a way of life for Don. He volunteered time to Habitat for Humanity in New York and in Iowa; Prince William Forest National Park in Triangle, Virginia; Saguaro National Park in Tucson, Arizona; Gila Cliffs National Monument in Silver City, New Mexico; Pipe Springs National Monument near Fredonia, Arizona; and Best Friends Animal Sanctuary at Kanab, Utah. He also served in the Peace Corps in Samoa and Cameroon.
Survivors are a son Paul John (Laura) Ahlas of Chandler, Arizona; a son Keith Charles 'Casey' (Michelle) Ahlas of Lewiston, New York; a granddaughter Lyndsay (Jason) Brown; step-grandson Brandon; granddaughter Sara; great-grandchildren Hayden and Harrison Brown, and companion of 29 years Sandra 'Sandy' Jean Batalden of Chapin, Iowa.
Family and friends are asked to volunteer time to a needy family or charity as a memorial. 
A graveside service was held at 9:30 a.m., Friday, September 17, 2021, at Wayside Cemetery in Chapin, followed by a 10:00 gathering at Block 10 in Sheffield, to remember and honor Donald's life.
The Sietsema Vogel Funeral Home of Hampton cared for Donald and his family.
www.sietsemavogelfuneralhomes.com
641-456-3232
Category:
Mid-America Publishing
This newspaper is part of the Mid-America Publishing Family. Please visit www.midampublishing.com for more information.