Dolores Thelma (Vikturek) Buttjer, 98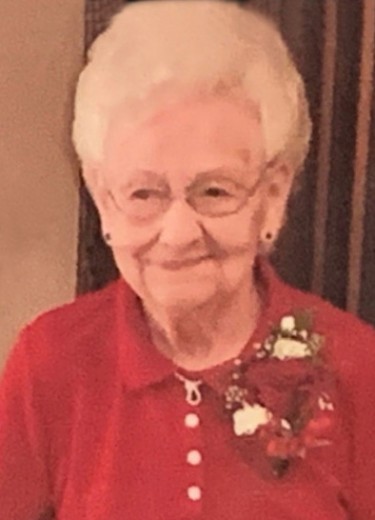 Dolores Thelma (Vikturek) Buttjer, 98, of Hampton, passed away Tuesday, April 26, 2022, at Franklin Country View Nursing Facility in Hampton. Visitation will be held from 4:00 p.m. to 7:00 p.m., Friday, April 29, 2022, at Counsell Woodley Funeral Home in Hampton. A graveside service for friends and family will be held at 9:00 a.m., Saturday, April 30, 2022, at the Hampton Cemetery. Counsell Woodley Funeral Home of Hampton is caring for Dolores and her family.
Dolores was born August 22, 1923, at Rock Falls, Iowa, to Leonard and Mary (Kouba) Vikturek. She attended rural schools and graduated from Plymouth High School in 1943. After graduating, she moved to Chicago, Illinois, for a few years. After moving back to Iowa, she worked for National Tea Company, then moved to Rockford, Iowa, where she helped farm with her husband, Maurice. Dolores also drove school bus for 18 years for the Rudd, Rockford, Marble Rock School District. After Maurice passed away, she moved to Hampton, Iowa. Dolores sold Avon for many years, to which she received many Mrs. Albee's for top sales, and many cherished friends.
Dolores enjoyed bowling, fishing, sewing, making quilts, gardening and sitting by a campfire with her family. She cherished her grandchildren and great grandchildren, making wonderful memories. She was always up for a game of cards or marbles, where she was in it to win.
Dolores was preceded in death by her husband, parents, 3 brothers, 2 sisters, grandson Micheal Cerwinske, and son-in-law Gary Bechtel.
Dolores is survived by her children, Jean Bechtel of Lake Mills, Marvin (Brenda) Cerwinske of Hampton, and Marlene (Bryan) Tapp of Hampton; grandchildren, Chad (Shannyn) Bechtel, Abby (Kirby) Holtan, Jody (Aaron) Waechter, Marvin II (Amanda) Cerwinske, Jennifer Tapp (Damingo Banks) and Joseph Tapp; great grandchildren Grace, Kate, and Emerson Bechtel; Madison, Becca and Tori Holtan; Kenzy Lee (Cullen Carrigan) and Dakota Lee; Baby Boy Cerwinske in June; Caden, Brayden, Peyton and Kyanne Tapp.
Category:
Mid-America Publishing
This newspaper is part of the Mid-America Publishing Family. Please visit www.midampublishing.com for more information.