Delmar Dean Mollenbeck, 87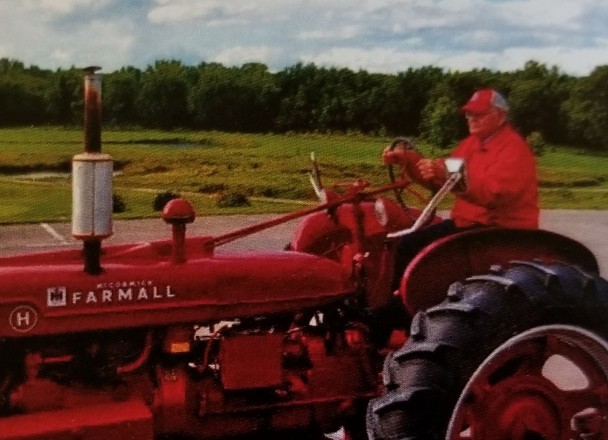 Delmar Dean Mollenbeck, 87, of Hampton, passed away Wednesday, September 8th, at MercyOne North Iowa Medical Center following a brief illness.
Delmar was born on February 6, 1934, to Bert and Lena (Olk) Mollenbeck at their home in rural Latimer. He attended country school at Marion #1 and was proud to share that he was the top of his class, neglecting to mention he was the only one in his class. He graduated from Franklin Consolidated in Latimer in 1952. During high school he participated in FFA and helped plant the existing grove around the school.
He met a pretty neighbor girl, Ellen Gangstead, whom he quickly decided was the one for him; he never dated another. They were married on March 6, 1955 at St. Paul's Lutheran Church in Hampton. Delmar and Ellen made their home on a 160-acre-farm, a mile from his parents. He farmed with his dad and brother for 43 years with very little conflict, but lots of coffee and tea breaks. Delmar often bragged that he never had to work after dark and that his wife didn't have to work in town.
The couple raised their daughter and 3 sons on that farm. Family life was different then. Everyone shared in the chores and their entertainment consisted of getting together with neighbors and church friends over a lunch of open-face sandwiches, cake, and ice cream.
Zion Reformed Church of rural Sheffield was an important part of Delmar's life. He very rarely missed a service and often arrived before the pastor. He served as a deacon, a Sunday school teacher, and attended the Men's Brotherhood. Delmar and Ellen were part of the "Young Couples Club" long past their youth.
The couple moved to town in 1996. Delmar still made daily trips to the farm and helped his sons as they carried on the farming tradition. Most of Delmar's conversations revolved around crops, yields, grain prices, land sales and of course, the weather.
When Hardees came to Hampton, Delmar found a new hobby...drinking coffee and telling stories with "the boys" at Hardees. He continued that tradition until just days before he passed.
Beyond his interest in farming, he will be best remembered for his likable personality. He was friendly and unpretentious. He would strike up a conversation whether a person was the state champion or in last place. He was a low-maintenance, carefree, yet quick-witted man.
Delmar quit breathing minutes before his heart stopped beating. The nurse commented that he had a really good heart. Yes. Delmar Mollenbeck had a really good heart.
Delmar is survived by his children Karen (Layton) Tiedt of Fairbank, Kent (Mary) Mollenbeck of Hampton, Kevin (Cindy) Mollenbeck of Hampton, Kurt (Kim) Mollenbeck of Latimer; grandchildren Melanie Tiedt, Nick (Haley) Tiedt, Andrew (Helen) Mollenbeck, Jared (Allie) Mollenbeck, Elise Mollenbeck, Samuel Mollenbeck, Jesse (Megan) Mollenbeck, Tyson (Raine) Mollenbeck, Halie (Dillon) Sorenson, Brett Dirksen, Katie (fiance Austin Foelske) Dirksen, Kyle Mollenbeck; great grandchildren Oliver, Marshall and Donovan Tiedt, Avery and Kade Mollenbeck, Elliot and Carter Sorenson, Luci and Lilli Mollenbeck, Boyd and Pearl Mollenbeck and Johnny Mollenbeck.
He was preceded in death by his parents Bert and Lena Mollenbeck, wife Ellen Mollenbeck and brother Dale Mollenbeck.
Visitation will be held from 3:00 p.m. until 5:00 p.m., Sunday, September 12, 2021, at the Sietsema Vogel Funeral Home in Hampton.  Funeral services will be held at 10:30 a.m., Monday, September 13, 2021, at Zion Reformed Church in rural Sheffield.  Burial took place in the Zion Reformed Church Cemetery in rural Sheffield.
Category:
Mid-America Publishing
This newspaper is part of the Mid-America Publishing Family. Please visit www.midampublishing.com for more information.