Leola Marie Prause, 97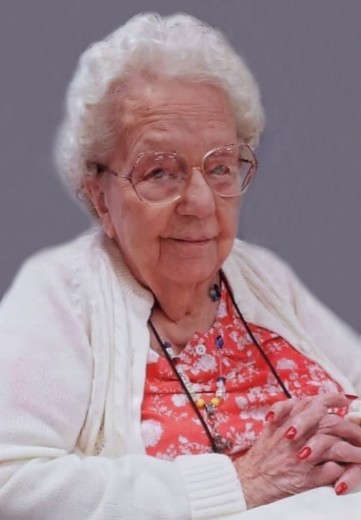 Leola Marie Prause, 97, went to Heaven on Wednesday, February 17, 2021, at the Rehabilitation Center of Hampton in Hampton, Iowa.  She was born on November 13, 1923, in rural Aredale, Iowa, to Clarence and Marie (Wilke) Cutler.
Leola married Edward Robert Prause on March 6, 1946; they were married for 72 years.  She was a stay-at-home wife and mother and also helped her husband on the farm.  When Leola and Edward moved to Hampton, she was a waitress for a few years.
Leola was a wonderful wife, mother, grandma, great-grandma, and great-great-grandmother.  She gave her life to Jesus Christ her Lord and Savior and was baptized.  Leola taught Sunday School, was a member of Faith Baptist Church in Hampton, was a member of the Dumont Legion Auxiliary, and greatly enjoyed being a member of the red hat society.
Leola is survived by her children Larry (Doris) Prause, Jo (Gerald) Craig, Jan (Ron) Scally, and Janis Theis, twenty-three grandchildren, forty-six great-grandchildren, and thirty-one great-great-grandchildren, as well as many nieces, nephews, and extended relatives.
Leola was preceded in death by her husband Edward, parents Clarence and Marie Cutler, brother Edwin Cutler, her in-laws Edward John and Anna Prause, grandsons Clarence, John, and Don, granddaughter Sarah, great-grandson Colin and son-in-law Bruce.
Funeral services will be held at 10:30 a.m., Wednesday, February 24, 2021, at Faith Baptist Church in Hampton with burial in the Hampton Cemetery.  A visitation will be held from 4:00 p.m. to 6:00 p.m., Tuesday, February 23, 2021, at Faith Baptist Church in Hampton.  The Sietsema Vogel Funeral Home in Hampton is assisting Leola's family.
Category:
Mid-America Publishing
This newspaper is part of the Mid-America Publishing Family. Please visit www.midampublishing.com for more information.