Jason Rolland Harper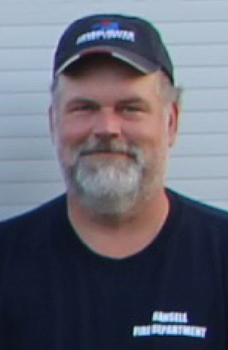 Jason Rolland Harper, 53, of Hansell, passed away Sunday, June 7, 2020, at Franklin General Hospital in Hampton.  He was born January 16, 1967, in Grundy Center, to Larry and Carolyn (McQueen) Harper.
Jason graduated from Hampton High School, class of 1985.  He furthered his education at North Iowa Area Community College in Mason City, receiving his Associate's Degree.  Jason was united in marriage to Rebecca Brayton on December 31, 1991, in Hampton.  To this union, a son and daughter were born: Colten and Jaelynn. 
Over the years, Jason worked as a machinist at Hampton Hydraulics and Consolidated Energy.  He was currently employed as the Franklin County Emergency Management Director.  Jason was a member of the Hansell Fire Department and City Council, as well as serving as Mayor of Hansell.  He enjoyed tinkering with old machines and cars, as well as figure-eight racing.
Jason is survived by his wife Becky Harper of Hansell; son Colten Harper of Hansell; daughter Jaelynn (Joey Bond) Harper of Manchester; aunts Darlene Vose and Arlene Crawford; mother-in-law Ruthann Brayton of Sheffield; brothers- and sisters-in-law Jeanne Weber of Mason City, Dale (Kathy) Brayton of Sheffield, Diane (Max) Wenck of Lidderdale, Patty (Bill) Binger of Sheffield, Jon Brayton of Malta, New York, and Jim (Kris) Brayton of Le Center, Minnesota; along with several nieces, nephews, cousins and friends.
He was preceded in death by his parents Larry and Carolyn Harper, brother Larry Dean Harper Jr. and father-in-law W. Dale Brayton.
A public visitation will be held from 11:00 a.m. until 2:00 p.m., Saturday, July 25, 2020, at the Sietsema Vogel Funeral Home in Hampton.  No other services will be held.
To view Sietsema Vogel Funeral Home click here.
Category:
Mid-America Publishing
This newspaper is part of the Mid-America Publishing Family. Please visit www.midampublishing.com for more information.