Gloria Mae Westaby, 93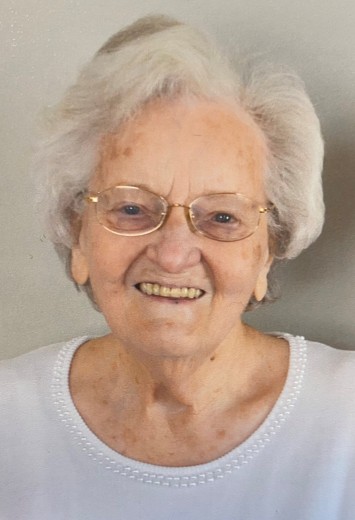 Gloria Mae Westaby, 93, of Alexander, passed away Saturday, January 9, 2021, at The Madrid Home, surrounded by her family.  She was born on December 2, 1927, in Hardy, Iowa, to Peter and Josephine (Michaelson) Helvick.
Gloria graduated from Humboldt High School and from Waldorf College in Forest City.  She was united in marriage to Marlo Westaby on July 28, 1948, in Humboldt; to this union six children were born. 
Gloria was a school teacher, a homemaker, and a bookkeeper for the family business of custom corn shelling and trucking, and later for Westaby Grain Company.  She also worked as an ad designer at Printing Services in Belmond until retirement.
Gloria attended the Alexander Methodist Church with Marlo for many years prior to its closing.  She was an active participant in all church activities.
Gloria enjoyed ballroom dancing, reading, crocheting, collecting Precious Moments figurines and hosting family gatherings.
Gloria is survived by her loving husband of seventy-two years, Marlo Westaby of Alexander, daughter Jacki (Wade) Kragel of Waukee, son Kevin (Colette) Westaby of Alexander, daughter Lynette (John) Bednarz of Ellston, daughter Jana (Jeff) Winters of Hampton, daughter Vicki (Farley) Roe of Waterloo, sister Diane (Wayne) Lehman of Badger, sixteen grandchildren, thirty-nine great-grandchildren (with two more on the way), along with numerous nieces and nephews.
She was preceded in death by her son Michael Westaby, great-grandsons Austin and Alex Rodemeyer, parents Peter and Josephine, one sister and three brothers.
Those in attendance are required to wear a mask and practice social distancing at all times.  Funeral services will be held at 1:30 p.m., Thursday, January 14, 2021, at the First Reformed Church in Alexander.  Visitation will be held prior to the service at the church on Thursday from 12:00 p.m. to 1:00 p.m.  Burial will take place in the Alexander Cemetery.  The Sietsema Vogel Funeral Home of Hampton is assisting Gloria's family.
Memorial contributions may be given in memory of Gloria to The Madrid Home, 613 W North St., Madrid, IA, 50156 or Suncrest Home Health and Hospice, 5959 Village View Dr., Suite 100, West Des Moines, IA 50266.
Friends and family will also have the opportunity to join Gloria's service virtually via "Zoom" on Thursday, at 1:30 p.m.  To join the Zoom Meeting:
https://us02web.zoom.us/j/84905293860?pwd=TExCRlYwUXRzTEhna3dPMnQ5Q1h3QT09
Meeting ID: 849 0529 3860
Passcode: 953186
Category:
Mid-America Publishing
This newspaper is part of the Mid-America Publishing Family. Please visit www.midampublishing.com for more information.