Edna Patricia Petersen, 101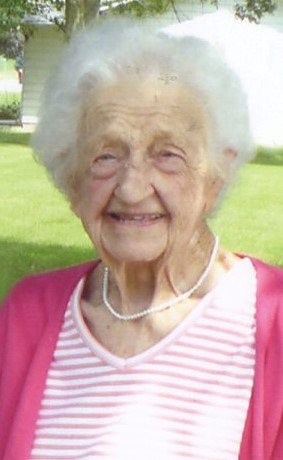 Edna Patricia Petersen, 101, of Latimer, Iowa, passed away Saturday, September 5, 2020, at Franklin Country View Nursing Facility in Hampton. Edna was born on August 2, 1919, in Latimer, to Jell L. and Annie (Fekkers) Johnson.
Edna attended schools in Coulter, Latimer and Alexander. She graduated from Alexander Consolidated High School. Edna worked for Northwestern Bell. During the war years, she worked in California as a telephone operator. She came back to the Midwest and worked as a telephone operator for 28 years in Minneapolis, Minnesota.
Edna was united in marriage to Kenneth "Pete" Petersen at the Little Brown Church in Nashua on June 24, 1952. They made their home in Bloomington, Minnesota, for many years. After retiring from Northwestern Bell in July of 1977, Kenneth and Edna moved to Latimer.
Edna was a former member of Nazareth Lutheran Church in Coulter, where she was active in ULCW and a member of Immanuel United Church of Christ in Latimer, where she enjoyed the friendly warm feeling of the congregation. She was also a member of the Over 60's Club in Latimer and the American Legion Auxiliary.
In Edna's spare time, she enjoyed playing cards and reading, especially historical and mystery books.
Edna had many highlights over 101 years. Most recently Edna was asked to be Grand Marshall of the 2019 Latimer Fun Days. When the parade was over Edna said "that was fun, let's go again!"
Edna is survived by sisters-in-law Betty Johnson and Marian Johnson, brother-in-law Halvor Egede, numerous nieces and nephews and all of their families. She was preceded in death by her parents, her husband, ten brothers and sisters and two nephews.
Private family services were held with burial in St. Peter's Cemetery, rural Coulter. The Sietsema Vogel Funeral Home of Hampton assisted Edna's family.
In lieu of flowers, memorial contributions may be sent in memory of Edna Petersen to MercyOne North Iowa Hospice, 232 2nd Street SE, Mason City, Iowa 50401.
Visit Sietsema Vogel Funeral Home by clicking here
Category:
Mid-America Publishing
This newspaper is part of the Mid-America Publishing Family. Please visit www.midampublishing.com for more information.