Dean Earl Greimann, 59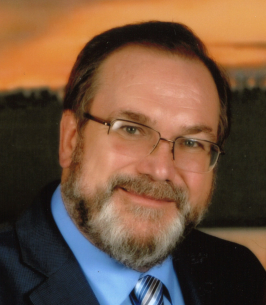 Dean Earl Greimann, was born on April 10, 1961 in Hampton, Iowa to Paul and Arvilla (Snyder) Greimann. He passed away on Thursday, December 31, 2020 at Mayo Health Systems in Mankato, Minnesota at the age of 59 years.
Dean graduated from Hampton High School in 1978. He earned many degrees including: a B.S. in Meteorology from Charter Oak State College, an M.A. in Teaching from Kaplan University and received his Master of Divinity from Oral Roberts University. Dean joined in the United States Coast Guard, where he served as an Oceanographer and then as a Meteorologist. During his career with the Coast Guard, he earned and received many medals and honors.  He retired in 2004 after serving his country for 22 years.
Dean held the position of Senior Pastor at Swea City Open Bible Church, where he and his wife Fay ministered from 2018 until his passing.   Dean also pastored at the Regional Worship Center Assembly of God Church in Sherburn, Minnesota from 2014-2018. He also pastored other churches throughout the country, prior to these.
Pastor Dean had an absolute love for teaching.   His was proud to say that he taught at Harvest Bible College, (the same school his mother attended).  He also was a substitute teacher for the North Union School in Swea City, where his students referred to him as Mr. G. Man.    Dean was a Bible scholar.  He knew the Bible inside and out often quoting scripture and verse.   He didn't just love the Lord; he loved the Lord with a passion.  If you knew him at all you will remember that his comment regarding good news he heard was always, "Praise God". Dean had a passion for Israel, he loved sharing his knowledge about Israel the end times, and the soon return of our Lord Jesus Christ.  Dean was not only a Pastor, but he was also very involved with the Mighty Warrior Kids program, teaching the children about the Lord. Along with this he served as the President of the North Kossuth Ministerial Association and a member of the Swea City American Legion.
He was always quick witted with a joke or pun, to put a smile on faces. Making people laugh brought him great enjoyment. In his spare time, he enjoyed working in his vegetable garden, fishing, and camping.
He is survived by his wife, Ruthie Fay Greimann who he so lovingly referred to as "My Eve".  After being a widower and widow, Dean and Fay found true love and happiness again.  With their profound faith in Jesus Christ and love for each other they were united in marriage on March 4, 2018.  He is also survived by his sons, from his first marriage, Andrew Paul Greimann of Fairmont, MN and Isaiah Scot Greimann of Hampton, IA; his step-son John Barrett Lum of Texas; and his siblings Steve (Elaine) Greimann, Ken (Beth) Greimann, Mary (Dennis) Symens, and Al (Nancy) Greimann. His In-laws Roy and Ruby Hunt of Texas, and his sisters and brothers-in-law Carmen (Doug) Pady, Wanda (Robert) Collins.
Dean was preceded in death by his first wife Rosa Maria Mejia, who he married on August 4, 1989 and his parents Paul and Arvilla (Snyder) Greimann
He was laid to rest in the Hansel cemetery, next to his first wife and the mother of his children, Rosa Maria Mejia Greimann.
Funeral services for Pastor Dean Greimann were on Tuesday, January 5, 2021 at the Open Bible Church in Swea City at 10 AM. A visitation for Pastor was held on Monday, January 4, 2021 from 4-7PM at the church. Burial took place at the Hansel Cemetery in Hampton, Iowa at 3PM on Tuesday.  Due to the current pandemic, masks and social distancing was required, and limited seating was be available during the service. The service was streamed via Facebook, a link was posted at 
www.henryolsonfuneral.com
Henry Olson Funeral Home of Swea City assisted the family with arrangements.
Category:
Mid-America Publishing
This newspaper is part of the Mid-America Publishing Family. Please visit www.midampublishing.com for more information.