Carlotta W. Rodemeyer, 102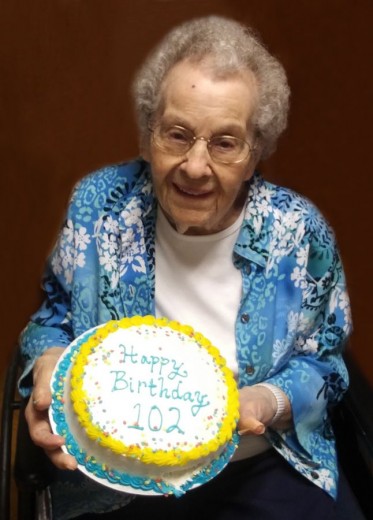 Due to the Covid-19 pandemic, a private family graveside service was held at St. Paul's Lutheran Church Cemetery in Latimer. The Sietsema Vogel Funeral Home of Hampton assisted Carlotta's family.
Carlotta W. Rodemeyer, 102, of Hampton, formerly of Latimer, passed away Thursday, September 3, 2020, at Franklin Country View Nursing Facility in Hampton, with family by her side. She was born February 24, 1918, to Ira C. and Gertie (Walker) Brown in Van Wert, Iowa.
Carlotta attended grade school in Van Wert and graduated from Belmond High School with the class of 1935. After high school, she worked at Kinsley Grocery in Belmond. She then moved to Hampton and worked at Harrison Inc. until she was united in marriage to Richard Rodemeyer Jr. on March 30, 1939, by Rev. Geo A. Koch of Trinity Lutheran Church. They farmed most of their life where Carlotta was a farm wife that worked alongside Richard. She was an active member of CAL Over 60's, a Senior Citizen board member and was involved in the quilting group at church. Carlotta enjoyed baking, canning, gardening and spending time with her family, grandchildren, great grandchildren and friends.
Those left to cherish her memory are her children: son Laverne Rodemeyer of Hampton, daughter Linda Thompson of LeGrand and daughter Carla (Mike) Oleson of Ankeny; nine grandchildren: Stephanie (Chuck) Laudner of Arlington, Virginia, Audra (Kory) Meyeraan of Grimes, Lanette (Keith) Lashway of League City, Texas, Brian (Sue) Thompson of Gladbrook, Robin (Bill) Leytham of LeGrand, Ginger (Justin) Song of Ankeny, Candice Oleson of Des Moines, Jade (Traci) Rodemeyer of Grimes and Joel (Amanda) Rodemeyer of Latimer; 19 great grandchildren: Jonathan, Emily, Trenton, Brandon, Corey, Kaleigh, Kristen, Whitney, Paige, Aaron, Michael, Logan, Sydney, Macy, Preston, Hannah, Cole, Gavin, Tate, one great-great granddaughter Madelyn Faith Lashway, brother Lowell Brown of Hampton and sister-in-law Evelyn Rodemeyer of Latimer.
Carlotta was preceded in death by her parents, husband Richard, son Max Rodemeyer, brothers Aubrey and Herman Brown, son-in-law Robert Thompson, daughter-in-law Polly Rodemeyer, twin great-grandsons Austin and Alex Rodemeyer, sister-in-law Lorna Brown and brother-in-law Alwin Rodemeyer.
Memorial contributions may be sent to Carlotta's family and mailed to PO Box 403, Hampton, Iowa 50441.
Visit Sietsema Vogel Funeral Home by clicking here
Category:
Mid-America Publishing
This newspaper is part of the Mid-America Publishing Family. Please visit www.midampublishing.com for more information.