BERNICE CASPERS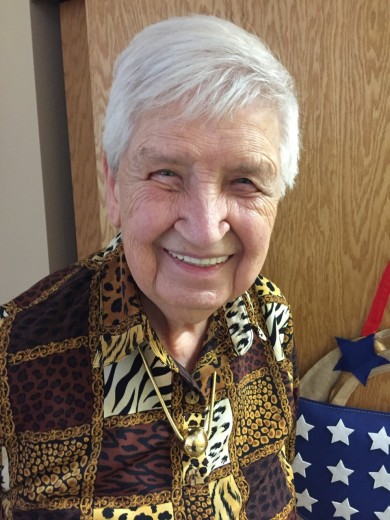 BERNICE CASPERS, 93, of Swaledale, Iowa, passed away peacefully on Wednesday, July 29, 2020, at the Seasons Hospice House in Rochester, Minnesota.
Due to COVID-19, private family funeral services will be held at 1:00 p.m. Saturday, August 1, 2020, at St. Paul Evangelical Lutheran Church in Thornton with Pastors Jane Harris and Rhea Evanson officiating. A public committal service with viewing will follow at 2:30 p.m. at Pleasant Valley Township Cemetery, rural Swaledale. In lieu of flowers, memorials may be directed to the church. Condolences may be expressed online at www.amesmonument.com.
Bernice Aldena (Nauman) Caspers was born on December 11, 1926, in Floyd, Iowa, to Emmett Frederick and Hannah (Janssen) Nauman. Bernice was one of nine children. She graduated from Floyd High School in the Spring of 1944, then attended and graduated from the Teacher's College in Cedar Falls, Iowa (UNI). After college, she later went on to teach grade school in West Bend and Floyd.
Bernice met Orville Caspers at the Surf Ballroom in Clear Lake, Iowa. They were married on March 8, 1951, at the United Methodist Church in Floyd, Iowa. This union was blessed with five children: Jack, Donald, Edward, Richard, and Susan. Orville and Bernice farmed in the Swaledale area until retiring several years ago. During their retirement tenure, Orville and Bernice wintered in McAllen, Texas, for 37 years, while taking short trips during the summer months to visit family and friends.
Bernice possessed a strong Christian faith and was a member of St. Paul Evangelical Lutheran Church of Thornton where she was an active member of the Ruth Circle and participated in many church activities. She enjoyed gardening, quilting, traveling, bird watching, shopping, family picnics, and family vacations. She also liked going to morning coffee at the Swaledale Town Hall, spending time with family and friends, dancing at various festivals and venues as well as attending Orville's annual 96th Infantry Army Reunions. She looked forward to spending her winter months in McAllen, Texas, where she and Orville attended and danced at daily and weekly volunteer music festivities. Bernice was a loving, friendly, and caring person and will be deeply missed.
She is survived by her son: Don (Julie), children: Todd (Julie), Heather; daughter-in-law: Rebecca, children: KayLee (Chris) Anderson and their daughter Cayda, Leighton Knaus, Jacqlyn, Emily, Edison; son: Richard (Alyce), children: Caroline, John "Jack;" daughter: Susan (Bob) Shanks, children: Nicholas, Parker; granddaughter: Amanda (Travis) Hobbiebrunken, children: Alec, Aisley; grandson: Brandon (Jody) Sheriff, children: Genna, Gavin, Graci; sisters: Alice Klopping and Ardis Richardson; sisters-in-law: Gloria Nauman and Janet Nauman; and many nieces and nephews and other extended family members.
Bernice was preceded in death by her husband, Orville; parents: Emmett Fredrick and Hannah Nauman; son and daughter-in-law: Jack and Bonnie (Parcher), son: Edward; brother and sister-in-law: Lester and Phyllis Nauman; sister: Vera Nauman; sister and brother-in-law: Gladys and Donald Wandro; brothers: Paul, David, and Emmett Nauman Jr.; brother-in-law: Vic Klopping; nephews: Derek Nauman and Russell Nauman; parents-in-law: Herman "Deed" and Fredericka "Freda;" brother-in-law and sister-in-law: Dale and Jeannette Caspers; great nephew: David Caspers; and numerous cousins.
Ames Monument & Cremation Center has been entrusted with the care of Bernice and her family. To Visit the website click here. 
Category:
Mid-America Publishing
This newspaper is part of the Mid-America Publishing Family. Please visit www.midampublishing.com for more information.